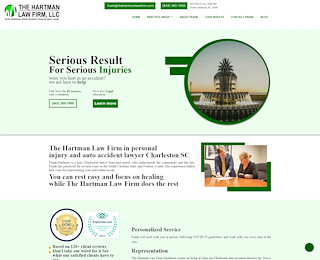 If you drive a vehicle for work and are injured in an accident, it's essential to talk to a leading attorney concerning your options and rights in pursuing a workers' comp claim. Car accident victims might be entitled to workers' comp benefits even when they're the at-fault drivers. Have you been hurt in a car wreck? Our Charleston workers' compensation attorneys can help. At The Hartman Law Firm, LLC, we have extensive experience to fight for you to get the benefits you need.
Benefits of an Experienced Workers Comp Lawyer
Although it's not a must, you hire a workers' comp attorney; having one can ensure the process goes smoothly, and it also takes the pressure off of you. Below are some of the pros of hiring an experienced auto accident injury lawyer:
Collect Sufficient Evidence
When filing for a workers' compensation claim, it's critical to have enough medical evidence to support your case. Without sufficient proof, it may be harder to get the maximum settlement that's rightfully yours. A dedicated personal injury lawyer will gather all the evidence you require, like medical records, inadequate training procedures, and a medical expert's deposition. They might also ask you to undergo an independent medical examination to make your case stronger. Doing all these increases your chances of a successful outcome.
Negotiate the Maximum Benefits
Enlisting the services of a savvy lawyer can enable you to know the estimated value of your claim and ensure you're paid the highest amount of money. Your attorney will consider different factors, such as the permanence of your injury and how the accident has impacted your life. The lawyer will also take into account your past, present, and anticipated medical expenses. An attorney will know how best to handle the insurers and negotiate with them to get you fair compensation.
Present Your Case in Court
Sometimes, an out-of-court settlement might not be possible. In such as situation, your lawyer will move your claim to court in front of a judge who deals with workers' compensation cases. Your lawyer will make your case by gathering evidence, conducting legal research, collecting formal statements, and doing written discovery before submitting the documents in court. Matters can become complicated, but with an experienced attorney, the process will be done as per the required procedure. The lawyer will further represent you aggressively, showing why you deserve to get maximum compensation.
Advice You on the Available Legal Options
Aside from handling your claim, an experienced car accident lawyer will guide you on all the legal options when it comes to your injury. For instance, if another person besides your employer caused or contributed to your accident due to their negligent act, your workers' comp attorney can recommend and make a personal injury claim against them on your behalf.
The Best Workers' Comp Lawyers
Are you searching for top Charleston workers' compensation attorneys? At The Hartman Law Firm, LLC, we provide tenacious legal representation if you've suffered work-related injuries, making sure you get the highest value for your claim. Frank is an experienced and dedicated lawyer who'll build a strong case for you so that you're paid the settlement you deserve. Call for a free 20-minute case evaluation: 843-300-7600.
Charleston Workers Compensation Attorneys