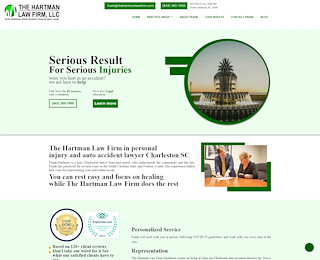 Workers' comp assists employees injured on the job in paying their bills. The benefits include temporary or permanent disability and medical cost coverage. Essentially, receiving workers' comp benefits should be a straightforward process. You inform your employer of the injury then file for workers' benefits. From there, your case is reviewed for approval, and you start getting your rightful benefits.
Unfortunately, so many things go wrong. For instance, the insurers can try to underpay you and even worse, your claim might be wrongfully denied. For these and more reasons, it's best to contact a Charleston workers comp attorney like ours for help. At The Hartman Law Firm, LLC, we'll work fast and zealously to get you the maximum amount of compensation benefits.
FAQs About Workers Comp Law in Charleston
Below we answer questions commonly asked by workers injured at work:
Is It Worth Getting a Workers Comp Attorney?
If you're hurt at work, you may be wondering if and when you should hire a workers' comp lawyer. The best answer is as soon as you're injured. A leading attorney will advise you against serious mistakes and fight relentlessly for your settlement. Sometimes, employees who're injured at work act like it's not serious or are pretty nervous and wish to maintain their jobs. But with an attorney in your corner, they'll determine the fair value of your settlement and work to get you the highest compensation amount.
Can You Sue Your Employer While on Workers Compensation?
In a broader sense, you're not allowed to sue your employer for an injury at work if they provide workers' compensation. Workers' comp was designed as a trade-off where employees involved in work-related accidents give up their right to sue their employers. In return, workers are given lost wages and medical care, no matter who's responsible for their injuries.
That said, there are some exceptions. Say you were involved in an accident at work and believe your employer caused the injury intentionally. In such a situation, you can go to a civil court and sue them for an intentional tort, whether for physical or non-physical harm.
What is the Average Settlement for Workers Comp?
The average amount for a workers' comp settlement is $40,000 and will vary based on different factors like the permanence of your injury. However, personal injury attorneys can aid you in getting the maximum compensation you're entitled to.
Can I Sue Workers Comp for Pain and Suffering?
According to the limitation of workers' comp, you can't sue for the suffering and pain you experience due to a workplace accident. But you can file for a personal injury claim in a local court if you're able to prove your employer's negligence caused you harm. It's advisable to get expert advice from a top-rated attorney, so you know if the information you're privy to is accurate and how to proceed in regards to your case.
Experienced Workers Comp Attorney
Wondering whether you should get a Charleston workers comp attorney? You definitely should. Why" The insurance company won't be looking out for your best interests, their focus in on making profits. But with our aggressive attorney by your side, you'll get the benefits you deserve. Call us at The Hartman Law Firm, LLC for a free 20-minute case evaluation: 843-300-7600.
Charleston Workers Comp Attorney