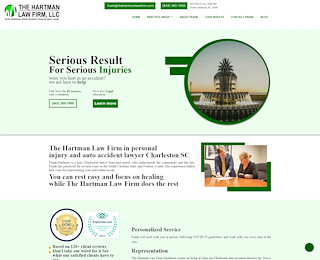 While searching the internet for the best car wreck lawyers near me can be a tiring task, you must find a lawyer soon after your crash to improve your chances of recovering reasonable compensation. Frank Hartman at The Hartman Law Firm, LLC is an experienced and reputed attorney specializing in car accident cases.
What makes Frank Hartmas the #1 attorney for car accident victims?
Our attorney possesses impeccable communication skills, compassion for clients, and passion for the job. His exceptional negotiation abilities allow him to deliver the maximum compensation for his clients.
Frank Hartman works dedicatedly on each case and keeps his clients regularly updated about the progress of their case. While our clients hurt in a car wreck receive treatment for their injuries, our attorney gets started on their legal battles, fights on their behalf, and protects their rights and interests.
Statute of limitation for a car accident in South Carolina
Statute of limitations refers to the time limit you have to bring a lawsuit to court. South Carolina allows plaintiffs up to three years from the date of the accident to bring on a claim against any potential defendant. If the accident results in one or more deaths, the statute of limitations for a wrongful death lawsuit begins from the day of the victim's death.
Failing to file a lawsuit within the time limit can lead to the defendant pointing out the discrepancy and the court dismissing your claim. If you are running out of time, speak to an experienced car accident lawyer at the earliest.
Benefits of hiring a personal injury lawyer
Having an expert attorney to represent you will intimidate your defendant's insurance company and cause them to quote a reasonable claim and provide you with a payout within a short duration. Hiring a leading injury lawyer to represent you may benefit you by:
Educating you about your rights and privileges
The injury laws differ from one state to another. An auto accident injury lawyer may help you learn about your rights as a victim in a car wreck, assist you in filing the paperwork, and educate you on what to expect in your case.
Providing professionalism and objectivism
Recovering from an auto crash can take several weeks or months. However, the statute of limitations requires you to pursue a claim within a specific period. While you focus on healing from emotional trauma and physical injuries, the attorney can build a compelling and solid case on your behalf and improve your odds of recovering compensation. Also, your injuries may prevent you from assessing your case details objectively. An attorney will evaluate your case details with a professional eye and help you get a speedy resolution.
Assisting with negotiations
Haggling with an insurance agency is no piece of cake, especially if you do not possess any legal experience. An accomplished attorney can handle the negotiations for you and help you receive a hefty remuneration.
Your search for the best car wreck lawyers near me ends here. Book a free consultation with Frank Hartman at 843-300-7600. The Hartman Law Firm, LLC, offers expert legal counsel and has numerous positive reviews from past clients. Do not let those who wronged you get away without paying the price for your losses and injuries. Get in touch with us today.
Best Car Wreck Lawyers Near Me