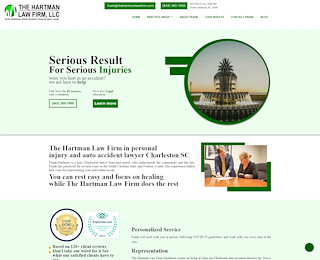 The Hartman Law Firm, LLC, is a leading law firm in Charleston with a 5-star rating on Google from numerous clients. Fighting your legal battles on your own can be a risky task to undertake, especially if you do not possess the legal insight or experience. Working with one of the best auto accident attorneys in Charleston may not only ensure reasonable compensation for your losses and injuries but can help you recover a settlement asap as well.
What to do immediately after getting hurt in a car wreck?
Take a deep breath, focus, and get potential victims to the nearest hospital or a place of safety. Do not administer any medical treatment beyond your knowledge or expertise, such as CPR, especially if you don't know what you're doing. You should contact an auto accident injury lawyer, the police, and your auto insurance providers instead. Once the police arrive, give your honest statement about the accident.
Exchange relevant contact information with the other driver or pedestrian involved in the accident. You must also get the contact information of any witnesses to your accident. Refrain from making statements like 'I feel so guilty' or 'sorry', since it could expose you to a personal injury lawsuit. Refrain speaking directly to the other driver's insurance company or attorney at all costs.
Importance of proving negligence after a car crash
Almost all states follow a fault or no-fault system to determine financial liability for a car accident. In a fault state, the person at fault for an accident must pay for the losses of the other driver, passengers, or pedestrian. These losses include medical treatment for injuries, car repairs, lost income, and pain and suffering.
If you share fault for the accident with the other driver, you can avoid full liability under a comparative or contributory negligence defense. See a experienced car accident lawyer to help you prove negligence in your accident claim.
How our personal injury lawyer can help you in an accident claim?
As one of the top lawyers in Charleston, our attorney can help you obtain critical evidence, gather your medical records, and prove liability in your accident claim. Our attorney can help you:
Communicate with the other driver's insurer and their insurance adjuster.
HObtain the necessary evidence to prove fault for the accident
Organize your medical records and bills, communicate with your health care providers, obtain missing treatment-related documents, and provide you with the medical information you need to prove damages in your claim.
Organize evidence and present it to prove liability and damages. Our attorney will also negotiate with lien holders and reduce the number of liens.
Negotiate a satisfactory settlement with your defendant's insurance adjuster and make sure to recover the best compensation in your case.
Your search for the best car accident victims attorney ends here. Contact us at 843-300-7600 to book a consultation with one of the best auto accident attorneys in Charleston. Frank Hartman is friendly, compassionate, focused, goal-oriented, and empathetic, making him one of the highly sought-after personal injury attorneys. The Hartman Law Firm LLC can help you seek justice for your injuries and losses. Call us today.
Best Auto Accident Attorneys in Charleston