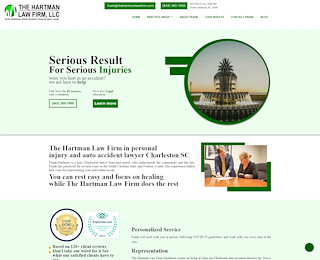 Searching for an auto accident lawyer in Charleston can be a tedious task. However, the sooner you get started with the legal process, the better your chances of garnering a favorable case outcome and a reasonable settlement from the negligent party. The Hartman Law Firm, LLC, is a top-rated personal injury firm in Charleston with an impressive track record and a highly experienced attorney.
Is it worth speaking to an attorney following a car accident?
If you suffer severe injuries in a car crash or permanent disability, you must hire an experienced auto accident injury lawyer to recover reasonable compensation from the at-fault party. Besides, a personal injury lawyer can save you time and money, handle the negotiations with the insurance adjuster, and relieve you from a ton of stress.
How can a lawyer help you after a car accident?
Frank Hartman is an experienced car accident lawyer who can help you with a car claim in several ways. Our attorney helps car accident victims:
Communicate with the other driver's insurer
Obtain necessary evidence
Collect and organize your medical records and bills
Liaise with your health care providers to understand the severity of your injuries and obtain missing medical records
Negotiate a reasonable settlement with the defense attorney or the insurance adjuster.
What is the average settlement for a car accident?
The average car accident settlement is $15,000 in South Carolina. However, you can expect to receive a much larger payout for more severe injuries and financial losses.
How much will a lawyer get from a car accident settlement?
Most attorneys bill their clients on a contingency basis, meaning their fee comes from your compensation. Attorneys charge anywhere from 30 – 40% of your settlement as their fee. Lawyers charge a lesser percentage for cases that settle before filing a claim. Alternatively, their fee percentage may be higher for claims that go to trial.
Is South Carolina a no-fault state?
South Carolina is a 'fault' state, which means if you suffer injuries in a car accident, the person responsible should pay you reasonable compensation.
What do you do in a car accident in South Carolina?
Call 911 if anyone involved in the accident suffers injuries. Wait at the scene for the police to arrive and obtain the other driver's contact and insurance information. Obtain any witness information, take photos of the accident scene, and get a copy of the police report. Call an experienced attorney soon after the accident to guide you on what to do next.
Should I report a car accident in South Carolina?
You must complete and send a traffic collision report form to the South Carolina Department of Motor Vehicles if you did not go through an investigation by a law enforcement official at the accident scene. You need to send the report only if your crash results in total property damage of $1,000 or more or someone involved in the accident suffers bodily injury or death.
Are you hurt in a car wreck? Reach us at 843-300-7600 to schedule a consultation with frank Hartman, the #1 auto accident lawyer in Charleston. The Hartman Law Firm, LLC, has delivered several million-dollar settlements to victims in an accident case. We can do the same for you. Call us now to have one of the best attorneys in Charleston handle your case.
Auto Accident Lawyer Charleston