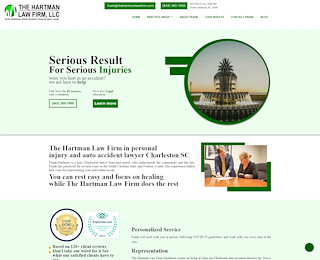 The Hartman Law Firm is the internet's top search result for the best auto accident law firm near me in Charleston. Our attorney's experience, in-depth knowledge of the accident laws in South Carolina, and analytical abilities can help you recover optimal compensation for your injuries, pain and suffering, and losses.
Top reasons to choose us for your injury claim
Frank Hartman is an experienced car accident lawyer with exceptional trial experience. Frank's expertise in personal injury law can intimidate the insurance company and cause them to handle your claim more seriously. Frank can see your case to the end, even if your case goes to trial.
Frank Hartman will handle your case from start to finish, liaise with you from time to time, update you about the progress of your case, and return your calls and emails the same day without any exceptions. Our personal injury lawyer creates a customized legal strategy for each client and delivers the maximum compensation. We possess the financial resources, a private investigative team, and a panel of expert witnesses to support your case and gather evidence in your claim.
While getting hurt in a car wreck can feel devastating, the sooner you connect with a leading attorney like Frank Hartman, the better the chances of recovering a worthwhile compensation for your injuries and losses.
How to hire an auto accident lawyer
You want a car accident lawyer who can protect your rights and interests, assist you in filing the paperwork, offer expert legal advice, assess the value of your claim, and collect valuable evidence to strengthen your injury case. Here's how to assess an injury attorney's competence:
Make sure to hire someone with exceptional communication and negotiation skills. You want an aggressive attorney who can handle the tricks played by insurance adjusters tactfully and recover reasonable compensation for your losses.
Look for an attorney with several years of trial experience representing car accident victims.
Check if an attorney has his own team of expert witnesses, private investigators, and paralegals to assist them with the legal processes.
Frank Hartman is a top-rated lawyer for his exceptional track record and high success rate. Our attorney possesses over 15 years of experience in fighting accident cases and has helped clients receive reasonable compensation for their injuries with his unsurpassed legal representation.
Our practice areas
Our auto accident injury lawyer specializes in a broad range of injury laws. Frank Hartman is a legal expert in handling cases relating to:
Car accidents – Our attorney handles drunk drive accidents, truck collisions, hit and run accidents, uninsured motorists, and pedestrian-car crashes. Frank is one of the highly sought-after automobile accident attorneys in Charleston.
Medical injuries – If you experience childbirth injuries, surgical errors, prescription drug errors, misdiagnosis, etc., Frank can help you sue the hospital, medical practitioner, RN, or surgeon responsible. Our attorney is a skilled medical malpractice lawyer and has recovered thousands of dollars in emergency room injuries, prescription drug injuries, etc.
Other serious injuries – Frank Hartman is a reputed attorney for wrongful death, worker's compensation, defective products, spinal injury, and traumatic brain injury cases. He also handles slip and fall accidents and dog and animal bite injuries.
Your search for the best auto accident law firm near me ends here. Contact us at 843-300-7600 to schedule a free consultation with Frank Hartman, one of the successful lawyers in Charleston. The Hartman Law Firm has delivered numerous million-dollar settlements for victims of auto accidents.
Auto Accident Law Firm Near Me