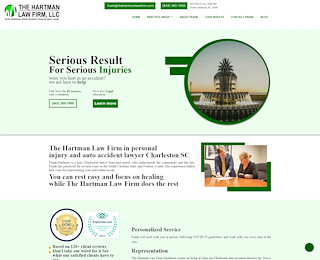 Frank Hartman is a preeminent auto accident attorney in Charleston with over 15 years of experience, impeccable negotiation abilities, and exemplary trial skills. The Hartman Law Firm, LLC has helped hundreds of car accident victims receive rightful compensation by building a strong case in their favor.
What makes Frank Hartman the highly sought-after injury attorney in Charleston?
Frank is the community's favorite injury lawyer with a 5-star rating from over 120+ clients on Google. He is a respected and celebrated attorney with 15 years of experience and an impressive track record. Here are a few qualities that make Frank one of the top-rated lawyers in Charleston:
Passion for the job - Frank's enthusiasm for lifelong learning and serving people makes him one of the top lawyers in Charleston. His never-ending love for injury law makes him one of the most knowledgeable injury lawyers.
Negotiation skills - Frank possesses exceptional negotiation skills and can help you receive a reasonable payout from the at-fault party in a relatively short period.
Easily Accessible - Most attorneys are barely available to answer their clients' questions and concerns. Frank is one of the few attorneys who returns his clients' calls and emails the same day.
When should I hire a car accident lawyer?
If you suffer severe injuries or significant property damage in an accident, you should hire an auto accident injury lawyer. Settling your claim without legal assistance may work in case of minor fender benders or collisions. Make sure to consult a doctor soon after your accident to understand the full extent of your injuries and demand reasonable compensation from the at-fault parties.
An experienced personal injury lawyer will recover reasonable compensation for your injuries and losses. Besides, they can build a strong case on your behalf while you focus on recovering from your injuries.
Benefits of hiring a car accident attorney
Working with an experienced car accident lawyer will significantly increase your chances of receiving the maximum compensation for your injuries and losses. Some of the advantages of retaining an injury attorney after getting hurt in a car wreck include:
They know the law better - As professionals specializing in injury law for several years, they know the various legal procedures, processes, and technicalities related to your case. A lawyer can review your situation promptly and advise you on what to expect.
Negotiate fair reimbursement - An experienced attorney can negotiate a fair compensation by dealing with the tricks played by insurance companies. This can help you receive a payout within a short duration.
Reduced stress - Dealing with the repercussions of an accident may not be easy. Handling your legal battles after an accident can make your life more difficult. An attorney can take care of your legal problems while you take the time to recover from your injuries and trauma.
Call 843-300-7600 if you are unsure whether you have an injury case. The time starts ticking from the day of your accident, and you only have three years to bring on a claim against the at-fault parties. Get in touch with Frank Hartman, the most experienced auto accident attorney in Charleston today. The Hartman Law Firm, LLC can relieve you of your legal worries and ensure that you receive decent compensation for your losses and injuries.
Auto Accident Attorney Charleston